Free Rein has my heart.
Last week I was fortunate enough to go visit a local establishment that I drive by every time I head into Brevard.  The facility has grown over the past year and with the new look they graciously invited members of our community to come check them out.
Like many who drive past I had wondered exactly what this place was all about. The huge barn and out building that was built appears to be massive from the road and while I knew a tiny bit of their story I was happy to have  a first hand view.
Free Rein is a 501 (c) 3 and will eventually become one of my Comments for a Cause.  In a nutshell this is what their website shares as their mission:
Free Rein instructors, volunteers, and horses help children and adults with a wide range of disabilities and challenges like Autism, Cerebral Palsy, ADHD, and many others. Participants gain increased flexibility, balance and coordination, enhanced gross and fine motor skills, improved posture, and self confidence.
I have a niece who has used this type of therapy with her clients and she has great things to say about the benefits.  And how can you not love the horses?
Free Rein also offers courses for adults and children on such themes as spirituality, grief, and confidence-building.  Free Rein is a member center of Professional Association of Therapeutic Horsemanship International (PATH International), which also certifies our compassionate and experienced instructors. We capitalize on the human-horse connection as the therapeutic agent in working with individuals and diverse groups of all ages.

Free Rein is the only PATH center in Transylvania, Henderson, or Buncombe Counties and we serve people from all three of those counties. Free Rein lesson fees are kept low to assure participation by all who might benefit, and scholarship assistance is available to all who qualify.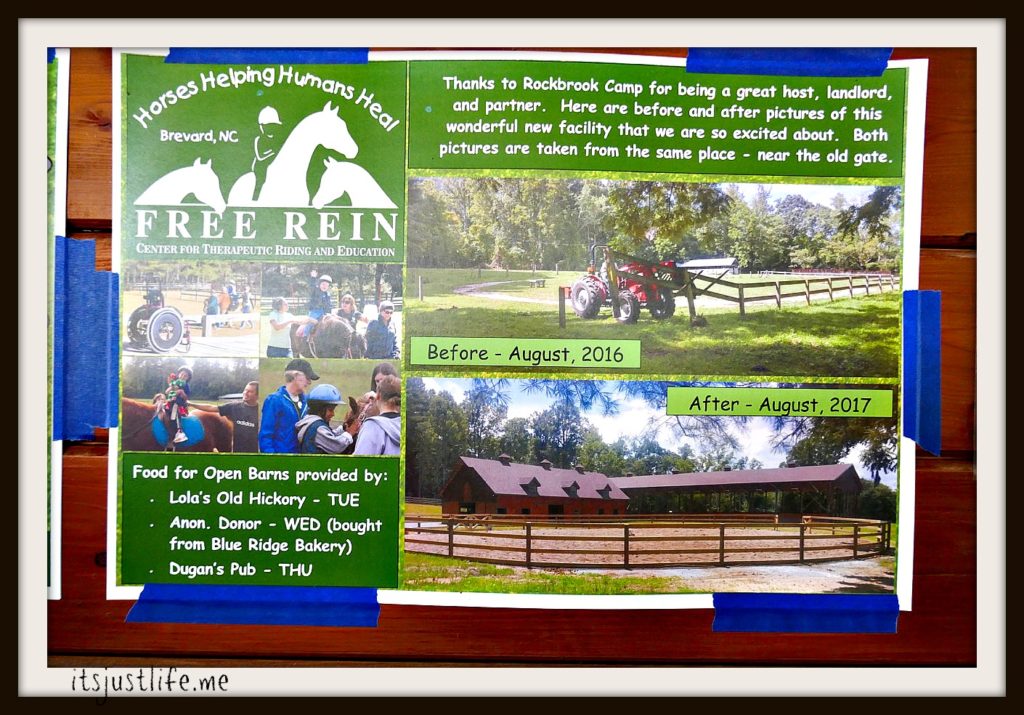 The facility is actually part of the Rockbrook Camp for Girls and Free Rein rents the facilities for 9 months of the year when it is not in use by the camp.  They offer several different sessions and are always looking for volunteers as well as donations.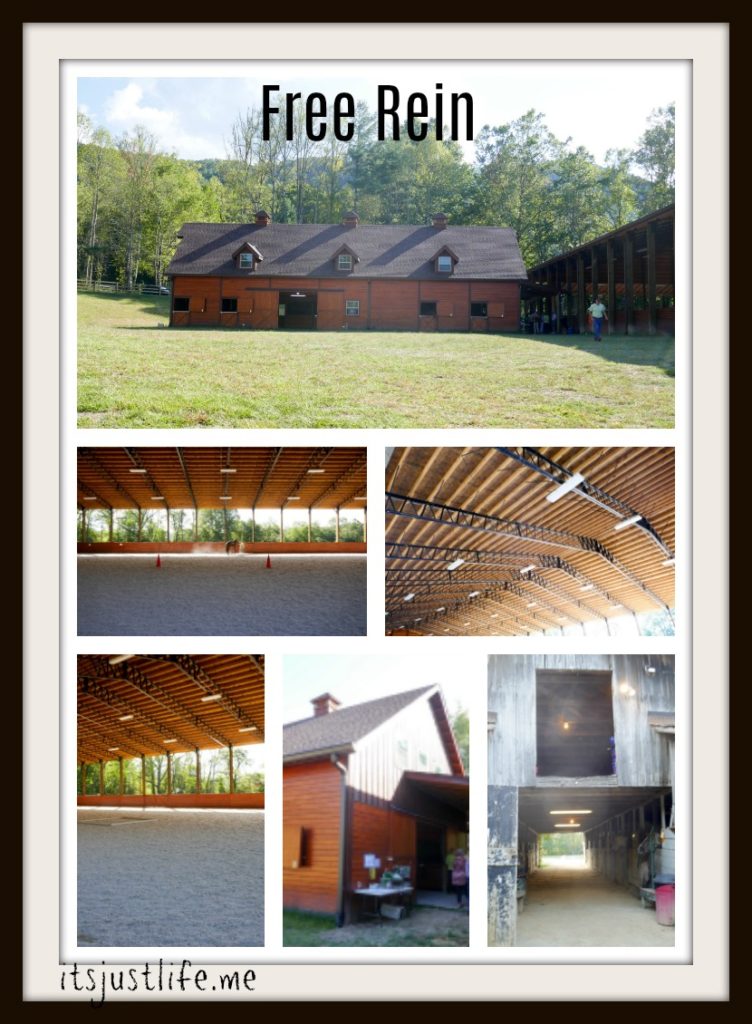 Free Rein's primary fundraiser "The Mane Event" is coming up on October 14th beginning at 6 pm until 10 pmT at the Connestee Clubhouse.  This event will certainly be a great way to help support a local charity and will include many activities.  As I browsed their Facebook page I thought the best way to share the info was to just share their words below:
"Trail Ride" is the theme for the evening, hosted by Free Rein's spokes-horses, Lois and Clark. There will be live and silent auctions, heavy appetizers, drinks and live music. Parents and friends of Free Rein will share their stories, and there will be a video tour of the new covered arena at Rockbrook Camp, where Free Rein offers its lessons.

Free Rein Center will serve more than 160 individuals in three sessions this year, the most in its 17-year history. Classes are provided at minimal or no cost to students, so financial support from individual and corporate donors, service clubs, grants and fundraising events like "The Mane Event" are very important. In addition to serving individuals with developmental and physical disabilities such as autism, cerebral palsy and Down Syndrome, Free Rein offers programs for two schools and Transylvania Vocational Services (TVS) at no cost to the school system or TVS.
Tickets cost $75 and may be purchased online at http://www.freereincenter.com/TheManeEvent. Attire is dressy casual; boots and cowboy hats are optional.
If you are a local and looking for a great evening out please consider joining the folks of Free Rein at "The Mane Event" on October 14th. You are guaranteed to have an amazing time.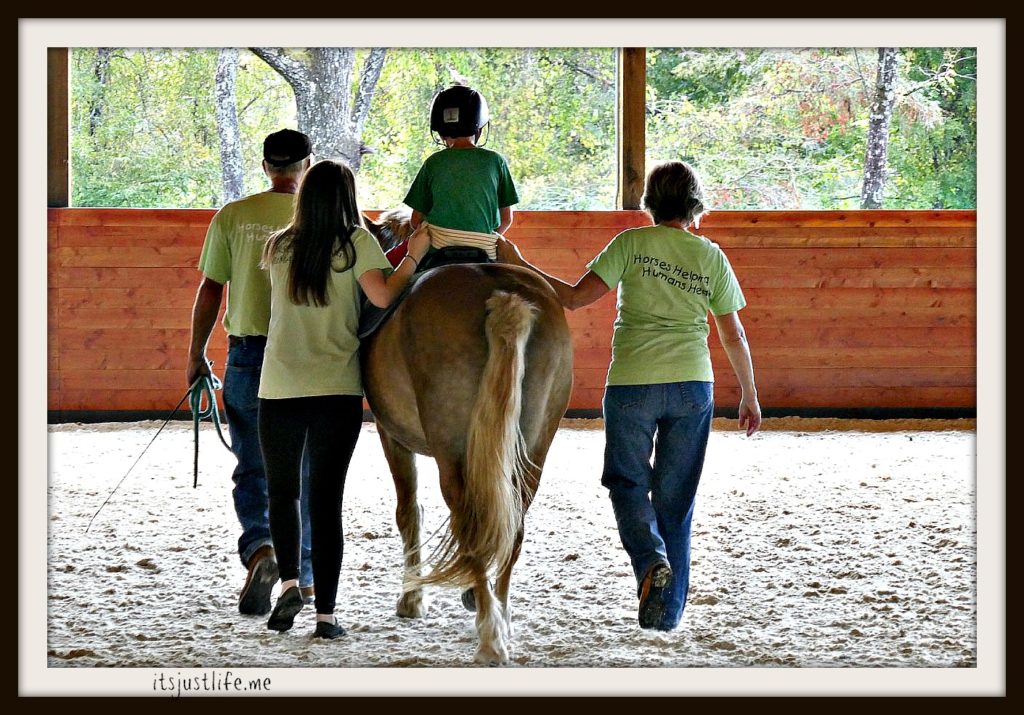 Links to Free Rein: