Many of my readers know that I have had a Little Free Library at The Whistlestop Market in Cedar Mountain, NC for over 5 years. My first one was a birthday present from Chris and we had a friend build it for us. It has served the community well for a long time but after replacing the door and trying to weather proof it multiple times we realized that it was indeed time to update with a new one. I absolutely loved this one and it was hard to say goodbye to it but it will be repurposed at our home. We do live in a temperate rain forest so it is difficult to keep outdoor wooden things nice in our weather.
Our son, Aaron, had promised to build me a new one and when he and Erin were down over Labor Day they brought the new one with them. It is a little smaller than my original one but is built really well and will serve the community well for at least another 5 years. I am thrilled. It even has a cedar shingles on the roof (dollhouse shingles).
Of course it rained the entire weekend so we had to put off the installation but over the weekend Chris and I got it put up with a minimal amount of effort. Now THAT is a surprise because you know how those projects tend to go.
We transferred the sign and loaded it up with new books. The post is a little large for the current one so I am going to try to figure out something to do on the "wings" so that it doesn't look so bare but until then I am happy to say that our Little Free Library is back in business, complete with a dehumidifier that I can trade in and out to help keep those books dry in our damp environment.
Just look at some of the great books that are just waiting to be shared.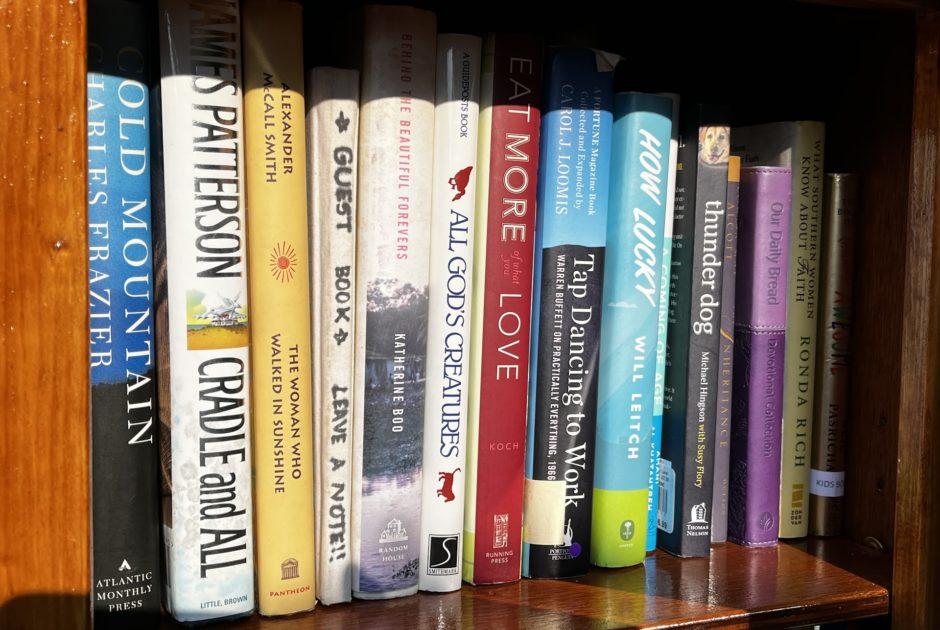 And of course we had to take the obligatory picture of me posing with it. Follow along on our Facebook page by clicking here.