100,000? What does that mean, you ask? Well, in my ever increasing attempt to gain views on It's Just Life (not really) I am going to tell you.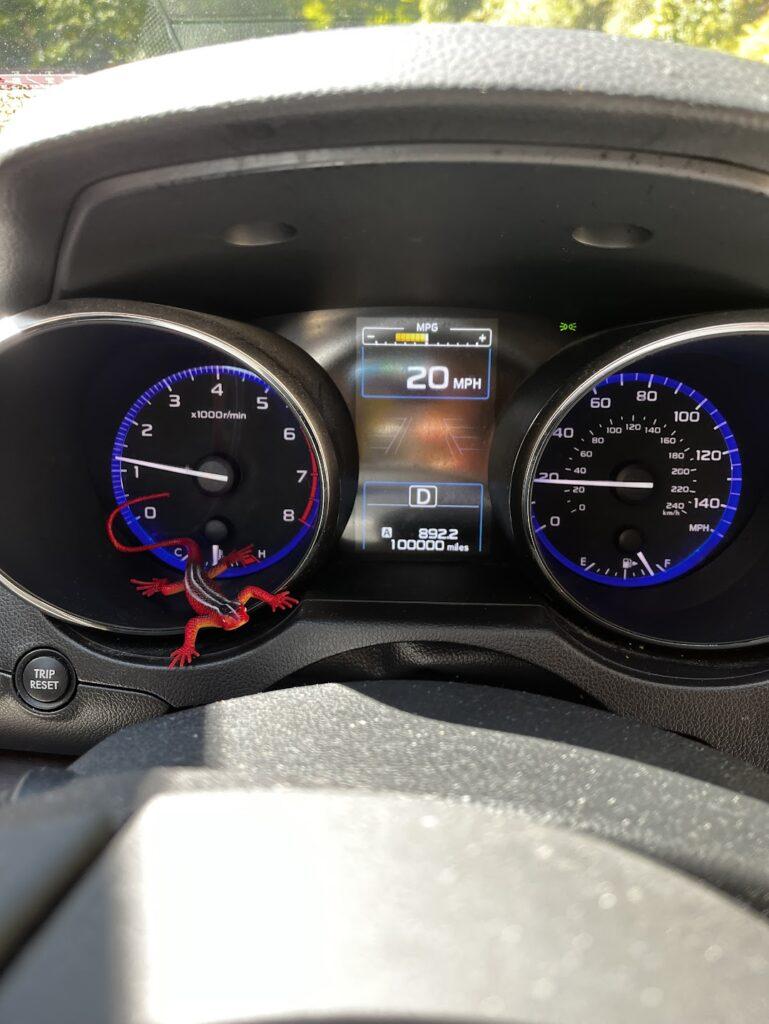 My Subaru Outback'd odometer changed to 100,000 this week and I managed to capture the moment with a picture. A dusty and distorted picture, but a picture none the less.
It is a monumental day when a car turns to 100,000 and my 2015 Outback has seen a lot of things. Trips to Ohio too numerous to count, trips to beaches and beyond, trips down the mountain, trips back up the mountain. The fun thing is that I actually bought my car in Texas back when we thought we would be living in Texas. You see the dealerships in Minneapolis weren't willing to work with us to give us a deal and Texas did. Then I drove it back to Iowa where I was practically the only Subaru Outback in town.
Fast forward to mountain living in Brevard, NC and I am one among about a million Subarus and probably one in half a million red ones. But that's okay. Mine is the only one with a happy dancing flower on the dash (thanks, Ann) and a red lizard by the odometer (thanks, Elaine). I would know it anywhere.
My car has been amazingly reliable and trustworthy and there is no need to get something to replace it. It does what I need it to do. Haul books, haul people, haul groceries and basically get me from point A to point B.
Those are good traits. Reliable and trustworthy, aren't they? When it all comes down to it I hope that that is what I can be to others as well. Reliable and trustworthy. Just like my Subi.
Have a great weekend, readers, and I will see you back here on Monday. Thanks for stopping by and commenting for our Comments for a Cause – Black Mountain Home for Children, Youth and Adults.