It's been an emotional weekend. Anyone else? Easter weekend is always a big one for me and since we are finally venturing back into church (Palm Sunday being our first time back in close to a year when we went a couple of Sundays last summer when Covid numbers were down) I think it is emotional.
Last Sunday was the processional of palms with all the children waving and laughing and causing a ruckus which is the wonderful and triumphant sound you like to hear.
Yesterday was Easter. It is what Christians claim as the reason we are Christians. The resurrection of Christ is our proof that God cares for each of us more than we can fathom. I just can not wrap my head around that and I am sure that is the same for many people.
Our church does Easter well. In past years when attendance has been larger (stupid pandemic) we have worshipped at the Porter Center at Brevard College. This year we stayed in our own sanctuary but it was a beautiful service complete with trumpet, hand bells, amazing organ music and singing. Joyous singing.
I got teary. It might have been the music.
It might have been the message.
It might have been the fact that I felt a part of the fellowship of God.
It might have been that 8 week old little baby next to us that inspired a toddler behind us to say "baby, baby, baby" on repeat.
It might have also been the card that I pulled out of the mail box on our way to church.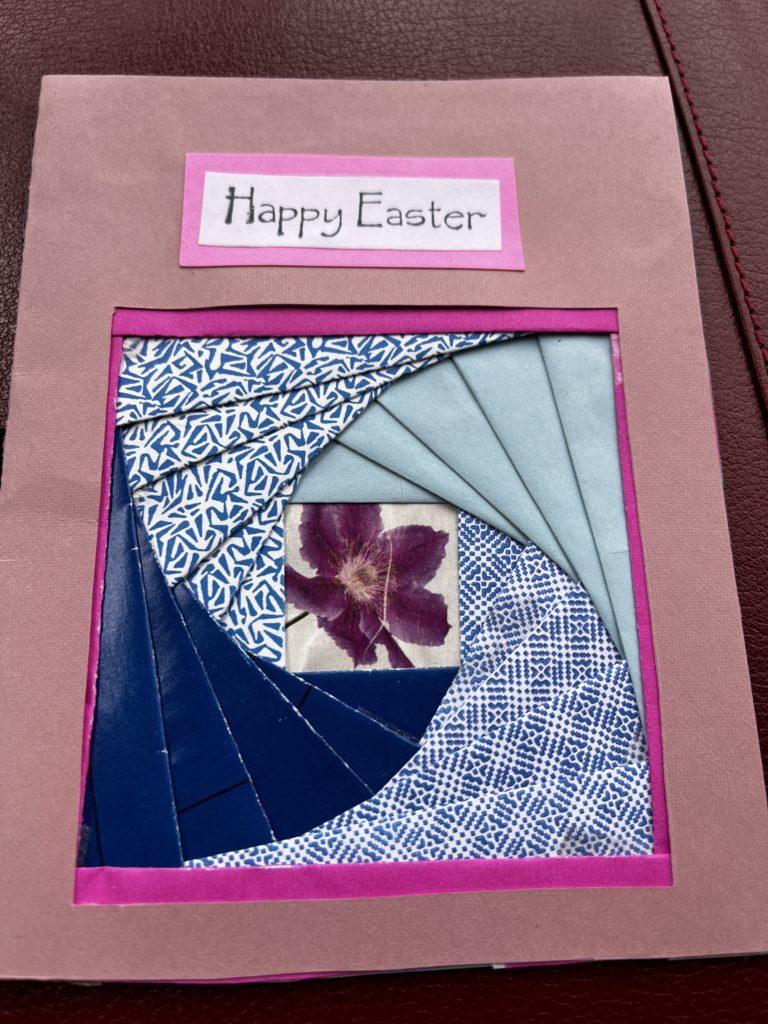 When we cleaned out my Mother's stuff my sister took a bunch of her homemade cards and card supplies. This was one that she did – iris folding– and Paula sent it to me. I teared up and I admit I shoved it back into the envelope and waited till after church to look at it.
Because.
Just because.
I especially have been missing my mom lately and as with any loss the grief comes and goes but lately it seems like it has come more than gone. I am not sure why but I know that my Mother is somehow with me, just like my Daddy, each and every day. Today it just seemed a little bit more real because of the whole Easter resurrection thing.
But then I think about how really blessed I am to be able to have these emotions and memories of times together with family and friends who really care.
April is halfway done and spring is definitely here. The hummingbirds are back, the bears are rambling around pillaging bird feeders and yards (as evidenced by our back deck railing) and soon there will be baby ducks and geese on our lake followed by a plethora of baby deer. There is hope and love everywhere. I hope that you feel some of that today.