Ever have one of those days that just does not quite turn out like you planned but ends up being pretty perfect in its own way? That was our Saturday. We had a list to tick off and headed into town early to do just that.
But then things happened and things didn't happen, plans changed. Breakfast became lunch. A walk by the river became a walk around the college. But it all worked out and I managed to capture a few photos of some of our time out and about.
Brevard College home of the Tornadoes.
The campus clocktower.
One of the buildings on campus — see the climbing woman? Brevard College promotes experiential education and one of their most popular majors is Wilderness Leadership and Experiential Education. They are situated in the perfect place.
Several musical themed sculptures grace the campus.
Now this little marker and path caught my attention so when I got home I had to look it up.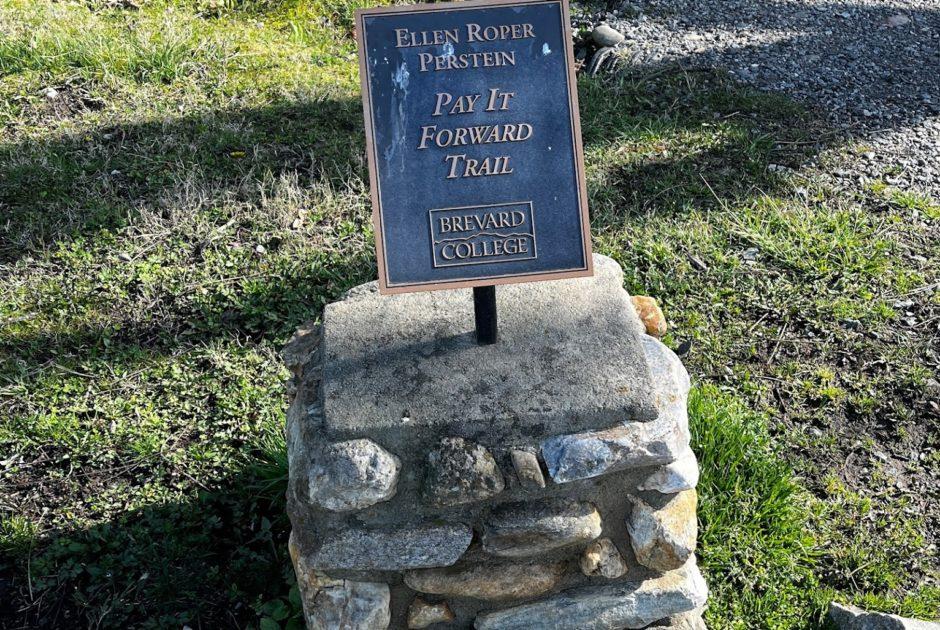 This is what I discovered on the Blue Ridge Community College website.
At age ten, Ellen Perstein's mother passed away and one of her older sisters became like a mother to her. When it was time for Ellen to seek a higher education, this same sister asked each of her siblings to contribute $1 per week to help with Ellen's college expenses. In total, their gifts amounted to $20 per month, which was a huge sacrifice during the Great Depression. Because scholarships were not available, Ellen worked her way through school as a live-in babysitter and held a job in the college's business office. By taking heavy course loads, she completed her four-year math degree in just two and a half years. Though, long after Ellen graduated from college, she still had nightmares about what she had to go through to complete her education.
To pay it forward, Ellen Perstein has been funding annual memorial scholarships in her maiden name, Roper, at Blue Ridge Community College since 1993. She started with the Carrie Roper Williamson Memorial Scholarship in memory of the sister who was like a mother to her. Her goal has been to establish scholarships to assist outstanding students who really wish to get an education in order to make an impact on the world; and who, in turn, might help others get an education. To that end, she has established six endowed scholarships (and is planning to fund her seventh next month) with Blue Ridge Community College Educational Foundation.
Ellen's dream is to establish as many scholarship endowments in the Roper name as she can before she dies. She firmly believes that educating bright young people with a financial need will do more to help the world than anything else she could have done.
In 2006, she provided an initial gift to establish the Pay It Forward Endowed Chair Fund and when fully funded at her death, the endowment will approximate one million dollars. Last year, she shared with the College staff that she no longer wanted to wait until her death for a recipient to be named—she wanted to see the first recipient sit in the Pay It Forward Endowed Chair.
What an amazing woman. Her obituary from 2017 when she died at age 96 was simple and without fanfare. She wanted no service or accolades but her legacy lives on.
Our morning ended with lunch at Pescado's, a Mexican restaurant we have never tried in our almost 7 years living here, that we will definitely revisit. Great burrito bowls. And the good news? We made it home in time to watch the Tarheels beat Baylor.