Our little town of Brevard, North Carolina has hit the big time once again. Thursday night found us at our local theater – Co-ed Cinema for the premiere of Rosebud Lane. There were two sold out showings and I snagged tickets early on so was happy about that. I must admit it was kind of strange to be in a theater after over 2 years of not going but it was fun and we felt totally safe . (We have had our second booster. Yahoo!)
The plot summary: Rosebud Lane is about a Hollywood filmmaker who connects with his estranged young son and the result leaves a small mountain town shattered.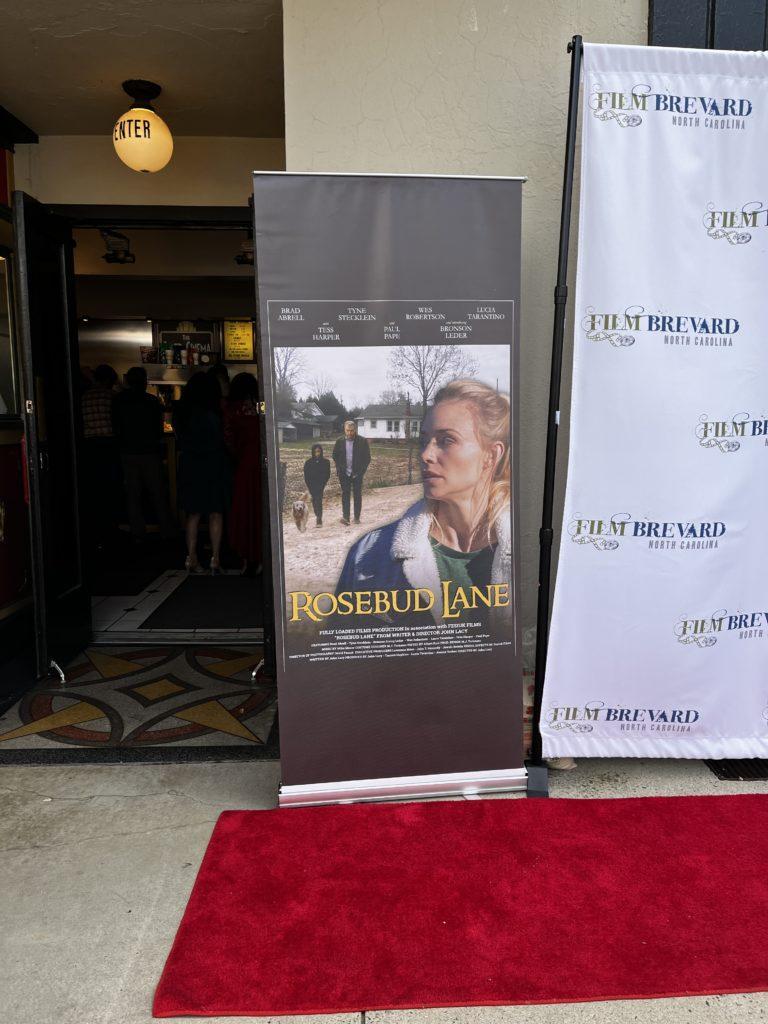 It was fun to see a lot of our local places featured in the film. The young boy in the movie is also a local youth and did a great job.
Of course I did not take any pictures during the movie –the ones I took were prior when they were featuring musical group Gypsy and Me who are featured in the movie. They are really great and I am looking forward to following them more. They also rolled some "behind the scenes" pictures on the screen like this one above.
Of course I had to take a selfie on the red carpet.
After the showing there was a time with the writer, director, some of the actors and Gypsy and Me but we did not stay for that . My friend, Beth, captured a great picture of them on the red carpet so thanks to her for the picture.
Have you ever been to a red carpet event? I would love to hear all about it so let me know in the comments. Remember all comments go to support our Comments for a Cause –Reece's Rainbow. You can read more about it by clicking here.
To read more about Rosebud Lane please click here.