One of our grandson's favorite words now is spooky. I think he got hooked on it when we were on our family trip to Maine and his Aunty Erin was running with him after dark past a cemetery. Now everything is spooky and what fun are we going to have this weekend when he comes to visit.
We have a lot on our list including decorating cupcakes, pumpkin carving, going hiking to see the Talking Trees at Holmes Educational Forest , playground visits and of course a couple of special Halloween related events here in Brevard.
First up is the annual Pumpkin Fest at Silvermont Park. It is really a fun event for the entire family so we are going to load up the cars and go enjoy a night of exhibits and music and fun. I have a lot of friends who volunteer with this event and it is definitely one of the most popular events to attend. Plus it helps to raise money to keep Silvermont Mansion and grounds in tip top shape which is a real asset to the community. If you are in town, make this a priority. It's totally worth it.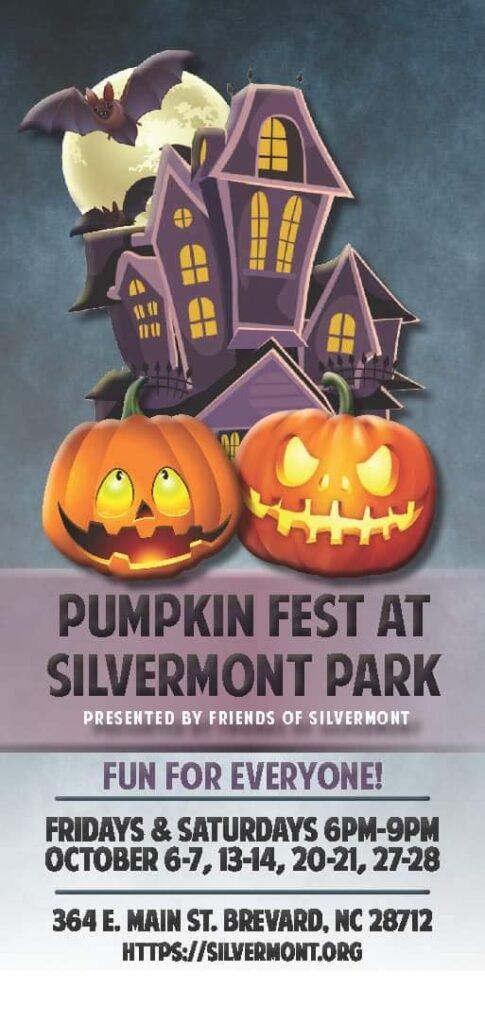 .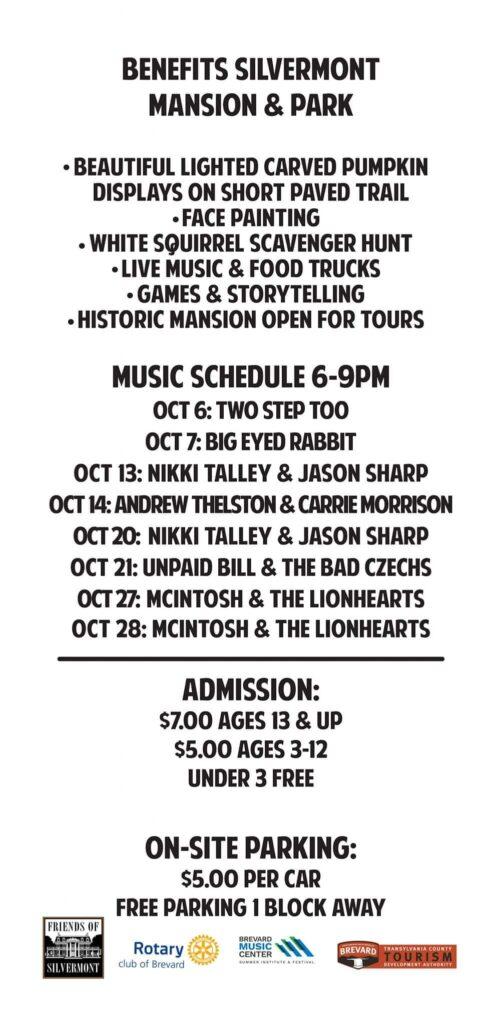 The next event we are going to take in is the fabulous Halloweenfest in downtown Brevard. It is THE event of the year and everyone goes. There is a contest for dog costumes, people costumes, food vendors, street fair with entertainment for all, downtown shopping, inflatables for the kids, hula hoop contest and more. It is sure to be a great event and after my 2 hours in the Sharing House booth I will be out and about with the family taking it all in. There is a lot of work that goes into this event and it is one of the best things our little town does.
Another thing that we might be able to fit in is to go see the display at Light the Night on Pine. Alex Rivera, a local resident, puts on a show for both Halloween and Christmas. We saw his Christmas display last year and loved it. This one might be a little too spooky for Theo but we will see.
I borrowed this from a Facebook post from Christ School:
No one does Halloween or Christmas like Alex Rivera '23.
And a little thing like his freshman year at Clemson University's Honors College was not going to stop the imaginative Christ School alumnus from carrying on his "Light the Night on Pine" holiday tradition in Brevard, N.C.
Alex found time to set up the Halloween Haunt 2023 display even though he only comes home on weekends when Clemson does not have a home football game.
Check out this trailer, which includes drone footage taken by Greenie Dad John Nichols P'28, and visit the Light the Night On Pine Facebook page for more details.
Pretty amazing, right? So if you are in Brevard, NC this weekend check out these events and maybe I will see you there!