If you know me and my love of books you know that I am thrilled anytime there is a new Little Free Library added to the map. This one is extra special because it is one my great niece and sister have put up and will be keeping an eye on.
Years ago I spotted these old realty information boxes that were on the site of where the Dollar General was going to be built. The land was carefully cleared and those boxes were moved to the back of the property. There they sat. Looking all lonely and sad.
One day I stopped and left a note on them saying that if they were not going to be used in any way I would be interested in using them for Little Free Libraries. I got the call and picked them all up.
As is typical with some of my projects, they sat in my side yard behind our little fence for months.
Eventually my sister took two of them and used them at her church in Hayesville, Ohio. I was thrilled that they had found a home.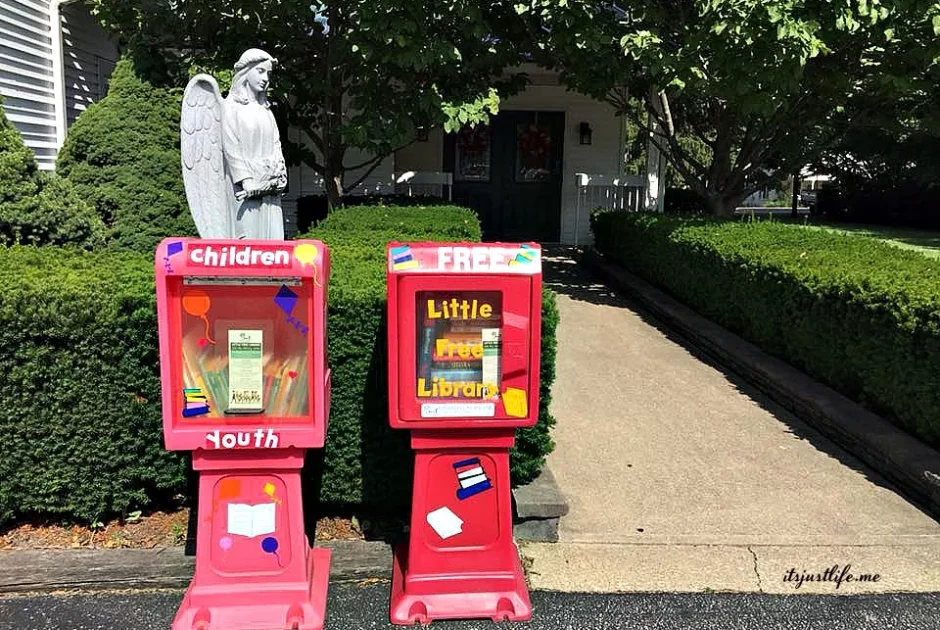 The other two sat and sat. I cleaned one up and took the door off in preparation to paint it and then it never happened. My great niece really wanted to put one up in their neighborhood and when my sister and brother-in-law visited one time we loaded that one in their car and off they went. Now I can say that it did take awhile for them to find a place to put it and to get it painted and ready to go but it is now operational and I couldn't be happier.
I am so happy that the Christian Endeavor United Methodist Church in Newark, Ohio agreed to allow them to put their cute Little Free Library on their premises. I know that it will be a huge blessing to their neighborhood and I love that they will be able to keep an eye on it and keep it well stocked. I am so happy that that information box from North Carolina made its way to Ohio and is going to be well used.
I hope that when you see a Little Free Library that you will stop and take a book or leave. a book. They really are a great way to share the love of reading and the people that take care of them are very invested in getting books in the hands of others who will enjoy them. I would love to hear if you use a Little Free Library regularly so make sure. you leave me a comment and Comment for a Cause for Black Mountain Home for Children, Youth and Adults.
I love the way theirs turned out, don't you?