Anyone else out there feeling like the holidays are taking over their life? Hoo boy — I feel like I am in the midst of holiday heaven around here with all of the events and commitments but isn't it wonderful?
I think the pandemic has done a few things for us that we can view as positives and one of those things is that people appear to be craving the opportunity to get together, to celebrate, to just be with one another however that can happen.
Brevard, North Carolina and Transylvania County are no strangers to festivals and events and this weekend we will be embracing the beginning of the holiday extravaganzas. Heart of Brevard, our local non profit who is tasked with maintaining and promoting a vital downtown, has tackled the holidays head-on and this weekend signals the start of a season of fun and events.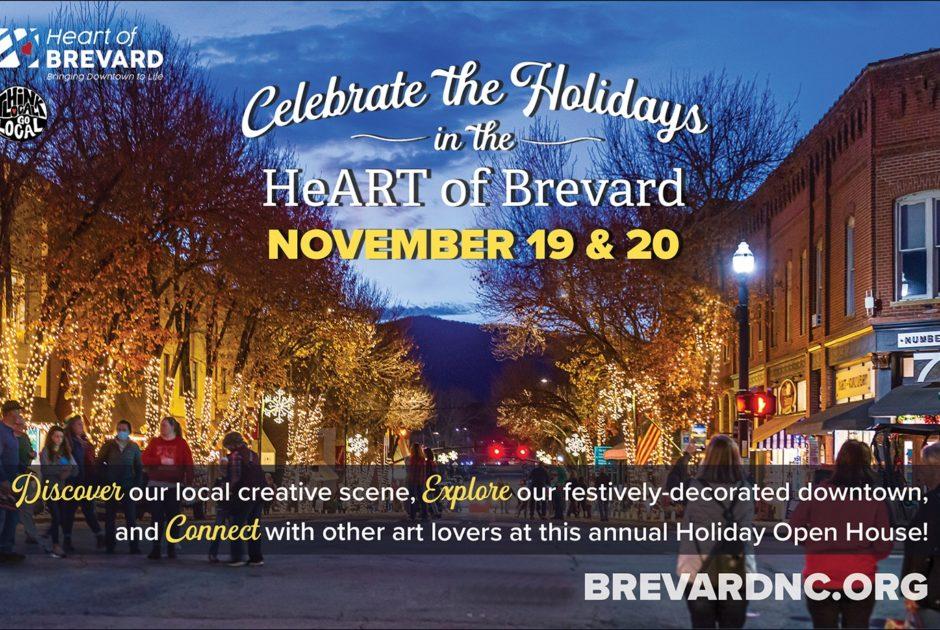 Open Houses are a great way to discover some great holiday finds and this weekend kicks off the wonderment of the season. It will certainly be a huge weekend in our little Brevard with families walking the streets, touring our many art galleries, eating at some of our fabulous restaurants and shopping at many of our eclectic and charming stores.
Window displays are also a fun thing to check out in Brevard and the latest December 2022 Our State Magazine shares a sweet story about some of the history of window display contest over the years. This years competition is detailed here and includes a Peace on Earth theme which seems to be perfect .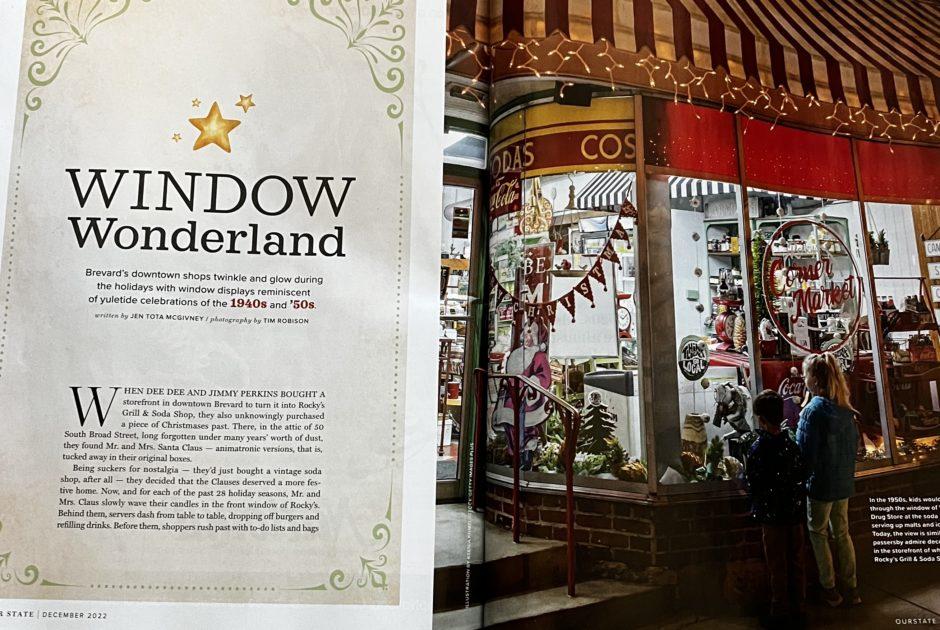 Light Up the Night Holiday Stroll, another Heart of Brevard sponsored event presented by Connestee Falls Realty, on December 3 from 4 – 8 pm includes the annual tree lighting, food trucks and festivities for the entire family. It is an event that is looked forward to with excitement.
In addition to all of these wonderful downtown activities there are a multitude of concerts, parades, and other special events all over the county. It is also the time of year when people are trying to focus on others and my favorite non profit – Transylvania Christian Ministry (Sharing House) – has several opportunities for folks to go above and beyond this year.
Pack the Pantry and Power Up are both opportunities this weekend for our area to contribute both food and monetary donations for power assistance this winter. Pack the Pantry is a great Rotary Club event that offers the opportunity at local stores to purchase items to donate to fill the pantry shelves at Sharing House. Collections are also taken at the Gazebo downtown which serves as the base camp for the event.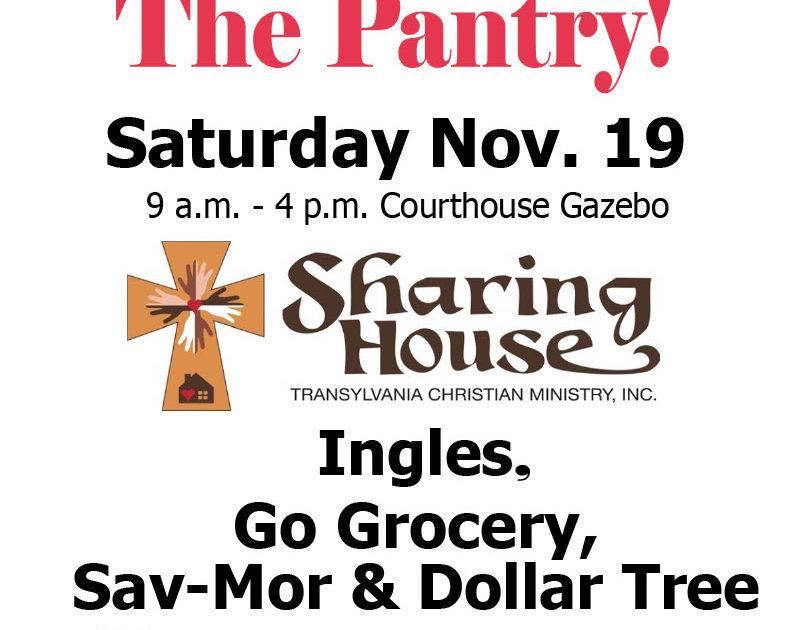 In its sixth year, "Power Up!" is a fundraiser by the interfaith community in support of Sharing House to support the needs of the community. On Nov. 20, St. Philip's Episcopal Church, the Unitarian Universalists of Transylvania County and the Brevard Jewish Community will partner to offer home-cooked meals in a drive-through fundraiser. These faith communities have taken on the task of raising money to help with heating bills in the county. If you want to learn more about the program click here to go to the website to learn more about how the program works. The fundraiser done by these faith communities was their answer during COVID to continue fundraising instead of doing in home meals and continues this weekend because it was so successful.
And finally, the Sharing House Christmas Blessings program, where families can come and shop for gifts for their children and youth. It is a marvelous program, run by Special Events guru Lynn Traub, who brings fun to everything she does. An easy to navigate Amazon shopping list is available for those who would like to do easy shopping online with no drama. I am 100% behind the no drama efforts, let me tell you.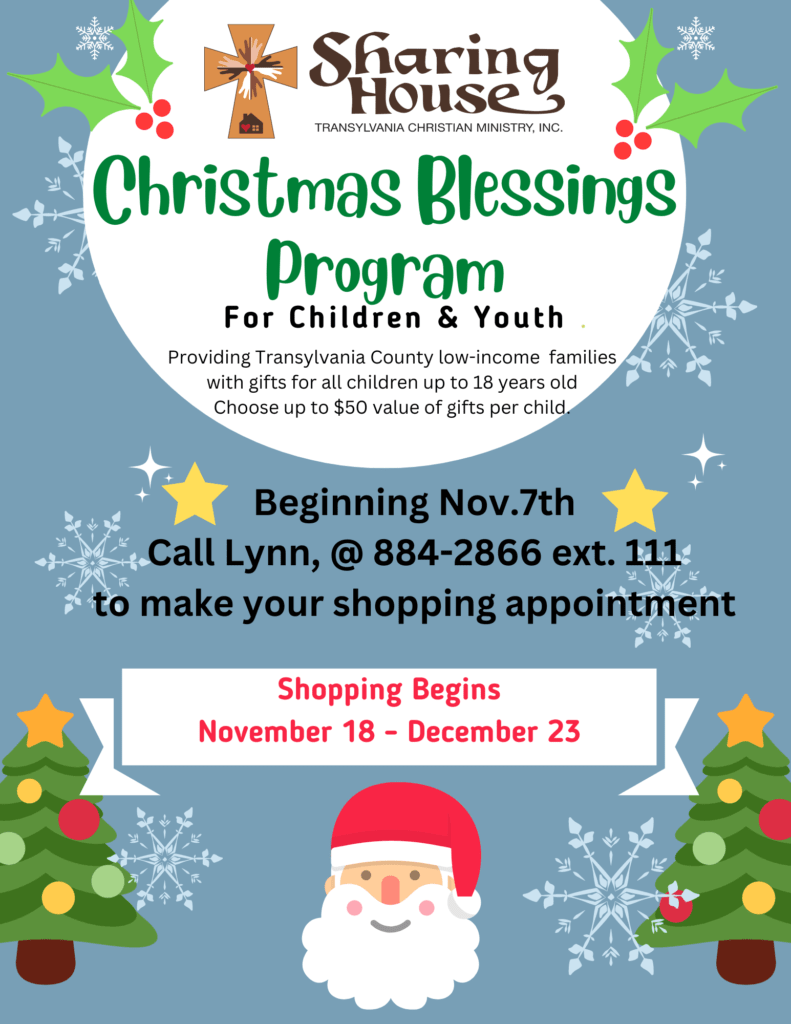 There are no shortage of things going on as the holidays approach and aren't we all just the lucky ones to be able to take part in some or all of what is going on in our area?
What is going on in your community this weekend? I would love to hear about it and remember that each comment made on any post this month means a 50 cent donation to our Comments for a Cause – Native American Heritage Association.