You know what I love about our world? When things get tough and challenging there are lots of people who step up to stand in the gap and do what they can do. The COVID 19 pandemic that is now present in our world has definitely presented a lot of challenges. Businesses and schools closed, travel plans halted, health concerns – it is all there in an unprecedented way but through it all people are being innovative and creative and that is what I love.
Here are just a few things that I have discovered in the past day that are options during these challenging times. Some are for children and some for adults but there are so many great things happening out there that I wanted to share. I will include links ( just click the underlined areas) to the ones that I can.
Many restaurants are offering curbside delivery for food which is wonderful and allows them to keep their small business open and serving without jeopardizing the social distancing procedures. Check your favorite restaurants for their options. Locally Brevard Clay is offering a really great option of a Paint Your Own Pottery Take Home Kit complete with an item to paint, paints, instructions and a guide. Simply place your order, pick it up, create at home and drop it back off later for firing. Check out their Facebook page here to get more details as to what is available, hours and more information about this great way to do something creative at home.
Cincinnati Zoo and Botanical Gardens is offering a fun Home Safari Facebook Live event each weekday at 3 pm. Not only can you see the highlighted animal of the day there will also be an activity you can do from home. Click here to go to their Facebook page directly for those Facebook Live posts.
Spectrum is offering free internet access beginning March 16 for 60 days to households with K-12 or college students who don't already have a Spectrum subscription. For information about this service click here to go to the page which gives more information.
The Metropolitan Opera will host operas at Nightly Met Opera Streams free to the public which will include some of their Live in HD series. The performances will begin at 7:30 p.m. EST and will be available to stream for 20 hours. More information on the upcoming selections can be viewed here.
McHarper Manor out of Cincinnati, Ohio is doing a great Facebook Live event Monday through Friday at 1pm Eastern Time, with free art & craft tutorials to create at home with your kids! They have even included a shopping list on their blog so you can get the supplies that will be used in the projects ahead of time. You can check out their blog here which outlines the activities for the coming week as well as a list of supplies needed. Some of these projects look like fun for adults as well. Their Facebook page link is here.
Finally a really great place to find links to 12 Museums from around the world that offer virtual tours. I mean how wonderful is that? Travel and Leisure has compiled this wonderful list of some of the most spectacular museums in the world that offer virtual tours. Click here to go directly to that article that includes links to those 12 museums. Google Arts and Culture offers an amazing selection to browse as well and clicking this link will get you to that page where you can while away the hours enjoying lovely art exhibits.
Another graphic (below) lists some great education websites for kids that offer some great learning opportunities for children. Check them out.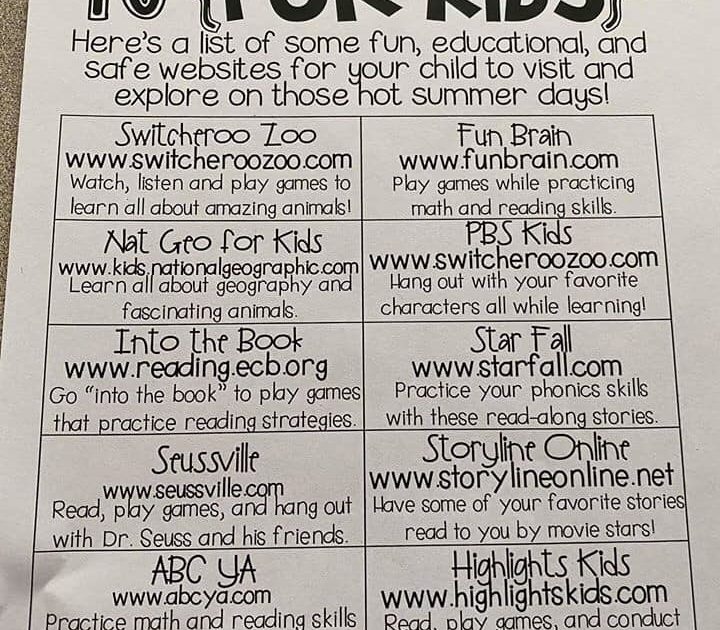 Another friend shared a link to a Google doc that lists virtual field trips on my post Friday so I am including it here today. Here is a link to take you to that doc. Thanks, Jenny, for sharing that with us.
Have you found anything innovative and creative that folks are offering during this time? I would love for you to share those in the comments. Remember that each comment this month means a 50 cent donation to our Comments for a Cause – Diaper Bank of North Carolina.