I received an advance readers copy of Slightly South of Simple for review purposes. All opinions are 100% my own.
One of the best things about being a blogger is being able to meet really great people.  I have been blessed to "meet" a lot of great authors over the years and sometimes they allow me to read their books before they are available to the public.  Kristy Woodson Harvey found me and asked me if I would read and review her latest offering which is finally available to the public now.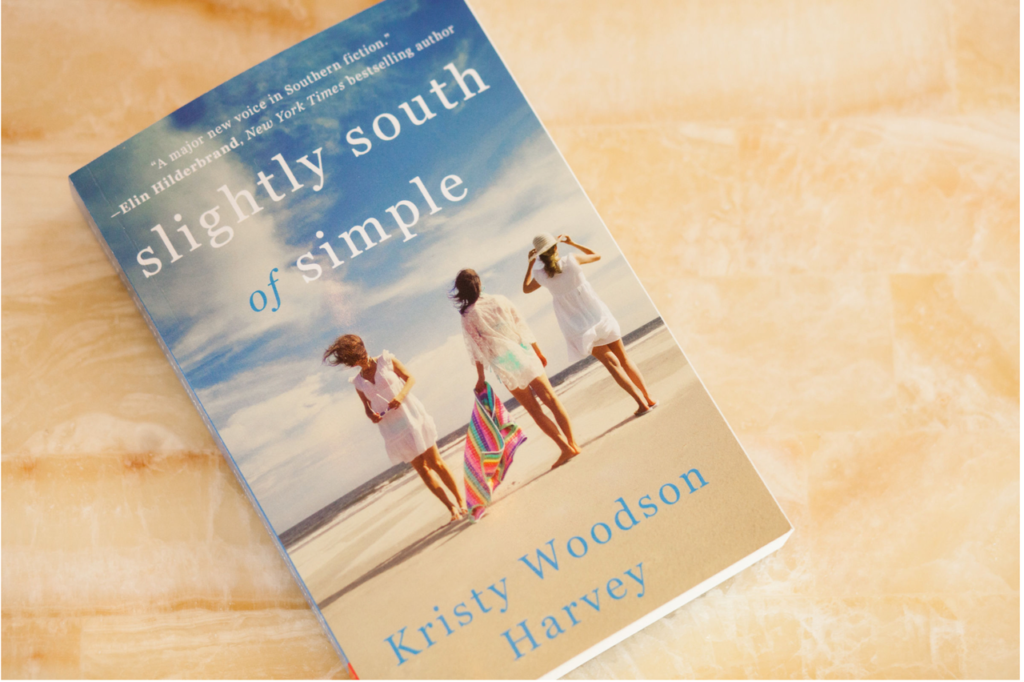 Kristy Woodson Harvey is the new "Voice of the South" in my opinion.  She has the ability to write a novel that is filled with Southern charm.  Her characters are so multi dimensional that I feel like I have been sitting on the front porch sipping a glass of sweet tea with each and every one of them.
Kristy recently did an interview for Momtrends and rather than just ask her the same questions I decided to share the content of the interview below.   Momtrends contact:  Jennifer Vido   [email protected]
What inspired you to write Slightly South of Simple, the first book in an all-new series about three sisters and their mother? This was such a fun book to write, and the inspiration came from a lot of different places, I think. I am always inspired by things that seem to keep coming into my life and take a lot of inspiration from that. For one thing, I am fascinated by first-love stories and the ways in which they can manifest themselves later on in life. Usually, those first loves are the people who know us long before we became the people we were in our adulthood, and I think that certainly colors the relationship between Jack and Ansley. I'm also endlessly fascinated by how people react when their "Plan A" doesn't work out. For Ansley, becoming a young widow with three daughters was obviously not in the plan—and another time when she has to revert to Plan B (or maybe it's C or D, really…) reveals itself throughout the course of the book as one of its secrets. Caroline has orchestrated this seemingly perfect life for herself, and she never expects for it to all come tumbling down. In some ways, coming back to Peachtree Bluff is part of Plan B for all of the women—and ends up changing all of their lives considerably in ways they never could have imagined

Caroline Murphy is at a crossroads in her life. What brings this New York City girl back to Peachtree Bluff, Georgia? Caroline's New York high society husband, James, is in the midst of a very public, very scandalous affair with one of the city's newest "it girls"—and he's appearing on a new reality show with her. Caroline is probably as tough as they come, but very pregnant and with an impressionable eleven-year-old daughter in tow, she decides to head home to her mother for a little TLC, despite the fact that she ran out of Peachtree Bluff kicking and screaming. With the whirlwind that her life has become, though, the quiet, slow pace she despised as a teenager is seeming a little more appealing. Being back with her sisters and mother is incredible, of course, but in a lot of ways it is the town of Peachtree Bluff that rehabilitates Caroline.

How does matriarch Ansley adjust to having all three of her daughters underfoot? At first, she isn't totally thrilled. Tapping into Ansley's true emotions about some things about her daughters was actually one of the really interesting things about writing this book. I think as the child, we always just assume that our parents are thrilled to be around us! But when I really delved into that, there are certainly some mixed emotions as the parent of adult children. Most of Ansley's nerves have to do with the fact that the sisters don't always get along perfectly—and those feelings are justified! Nothing has changed just because they are all grown up. Ansley has also worked really hard to cultivate a life of her own, and she's a little nervous about what having all of her girls back will do to that. But, as time goes on, she comes to relish being surrounded by her children and grandchildren and develops this (totally unrealistic!) fantasy that they will be in Peachtree Bluff forever.

How does Ansley's relationship with her daughters evolve from being a mother figure to becoming a friend? I think in her way Ansley is always a mother to her girls first. But, certainly, being a mother to adult children is a transition. She is walking that line between letting them run their own lives and intervening when they need her. I imagine that must be a very delicate balance. My mom always talks about how hard that is, to be a parent of an adult, because you still want to put your two cents in but you also know that your children need to make their own decisions. I think Ansley strikes that balance well—and you'll continue to see her struggle with parenting these adult children as the series moves forward.

5.Are you currently at work on your next project? If so, what may you share with us? Oh, yes! I just finished the first draft of the second book in the Peachtree Bluff series, whose working title is THE SECRET TO SOUTHERN CHARM. This is the middle sister Sloane's book. I can't say too much about it because it will give away some of SLIGHTLY SOUTH OF SIMPLE, but let's just say that both Sloane and Ansley are at major crossroads in their lives and the Murphy women have to rely upon one another—and Peachtree Bluff—more than ever. Grammy also figures heavily into THE SECRET OF SOUTHERN CHARM, and it was great to get to focus more on her character and delve into yet another generation of these wonderful women!
I absolutely loved this book and know that many of my readers will love it as well.  Please feel free to get your own copy today by clicking here.   Thanks, Kristy, for allowing me the privilege to read SSOS early.  I loved it and I know my readers will as well.
Follow along with Kristy at the following places:
www.kristywoodsonharvey.com
www.mydesignchic.com