Comments for a Cause for October was an organization that is near and dear to my heart.  UMCOR –United Methodist Committee on Relief with all of our donations this month going to help with Hurricane Irma Relief.  What I love most about UMCOR is that they give 100% to the cause that is designated.  Overhead and administrative costs are funded in a totally different way so when I donate I know that each penny I donated goes to that area that I designate.
All of the natural disasters have wreaked havoc in the past few months and UMCOR has been there for every single one, helping out, putting boots on the ground and staying to help long after others have left the scene.  That is why I love them so much.  Chris and I are happy to announce that we will be donating an additional $145 to UMCOR for Hurricane Irma Relief.  If you want to read my original post you can click here to view it.
Now for the moment you have all been waiting for.  It's probably not a big surprise since I just wrote about Free Rein a few weeks ago.  You can read that post by clicking here and it is full of wonderful horse pictures so come back after you click.  I will be right here waiting.
Chris and I are thrilled to be able to attend the Mane Event Gala that Free Rein held at the Connestee Clubhouse.  There was delicious food and drink, music and both a silent and live auction.  We were happy to make a donation for some feed for the horses and won a bid on a "Picnic with Llamas" so you KNOW that will be upcoming on the blog when it happens.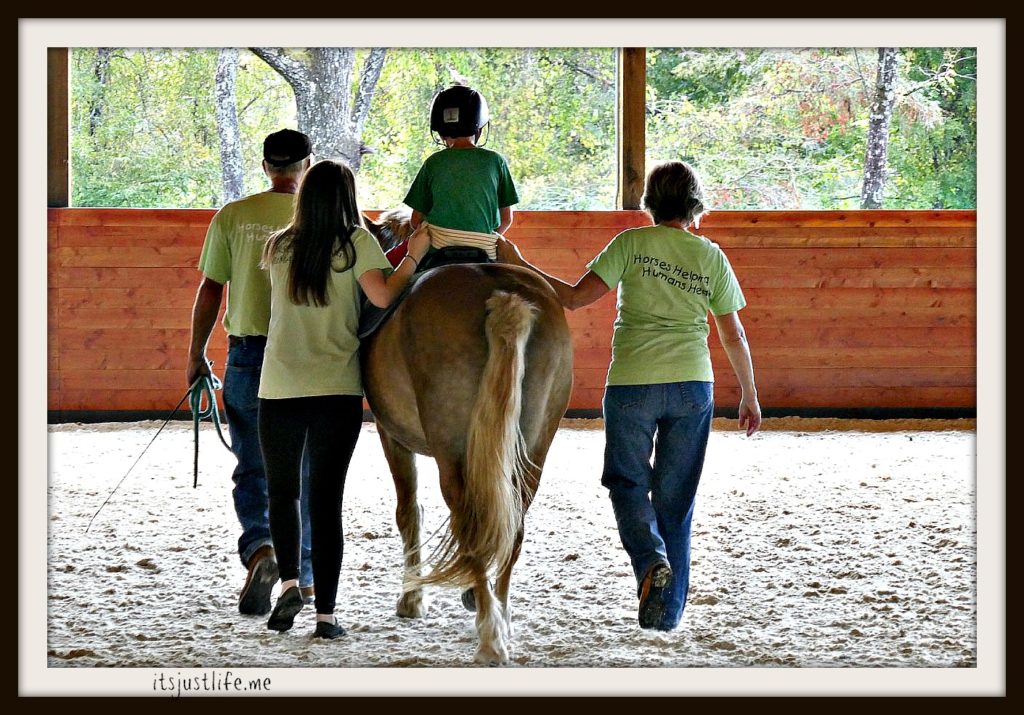 Free Rein is a magical place.  The volunteers work so hard with the staff to make sure that the horses are well cared for and that the riders are always first and foremost in everyone's mind.   Being able to see a class in progress as well as hearing a parent of one of the riders speak at the Gala was really amazing.  We are really blessed to have this great organization in our area.
So what do they do? This is what they wrote on their website:
Free Rein instructors, volunteers, and horses help children and adults with a wide range of disabilities and challenges like Autism, Cerebral Palsy, ADHD, and many others. Participants gain increased flexibility, balance and coordination, enhanced gross and fine motor skills, improved posture, and self confidence.
Free Rein also offers courses for adults and children on such themes as spirituality, grief, and confidence-building.  Free Rein is a member center of Professional Association of Therapeutic Horsemanship International (PATH International), which also certifies our compassionate and experienced instructors. We capitalize on the human-horse connection as the therapeutic agent in working with individuals and diverse groups of all ages.
The devoted volunteers and staff make this an easy organization to support.  Their enthusiasm and genuine love for both the horses and their clients is contagious.  I am thrilled to highlight them this month and hope that our comment tally will be a high one.
How does it work?  It's quite simple.  For each comment made on any blog post during the month of November (not just this particular post) Chris and I will donate 50 cents to Free Rein.  
At the end of the month we count the comments and make the donation based on how many comments were made.  It's really easy for my readers to support when all they have to do is leave a comment.  I write new posts 5 times a week so there is always something to comment on.  Or you can search my 9  1/2 years of posts and comment on ANY of them.  It all counts towards our total with $500 being the cap donation.  So come back often and leave me a comment. The horses will say thank you!
To connect with Free Rein please click on the links below.