Chris and I love to stay at Bed and Breakfast places on vacations and this past trip out west found us in several that were top notch.  I decided that it would be fun to do a little Bed and Breakfast post sharing a few of the places that we enjoyed on our travels this past month.
Our first stay was with my friend Beth Brown and her husband Rick in Coeur d'Alene, Idaho. I already shared our fabulous time with them in this post that chronicles our friendship of over 50 years.  While it wasn't a true B and B it felt like it because they were the perfect hosts.  Of course I loved their dogs, Spanky and Caroline.  Any place with animals wins in my book.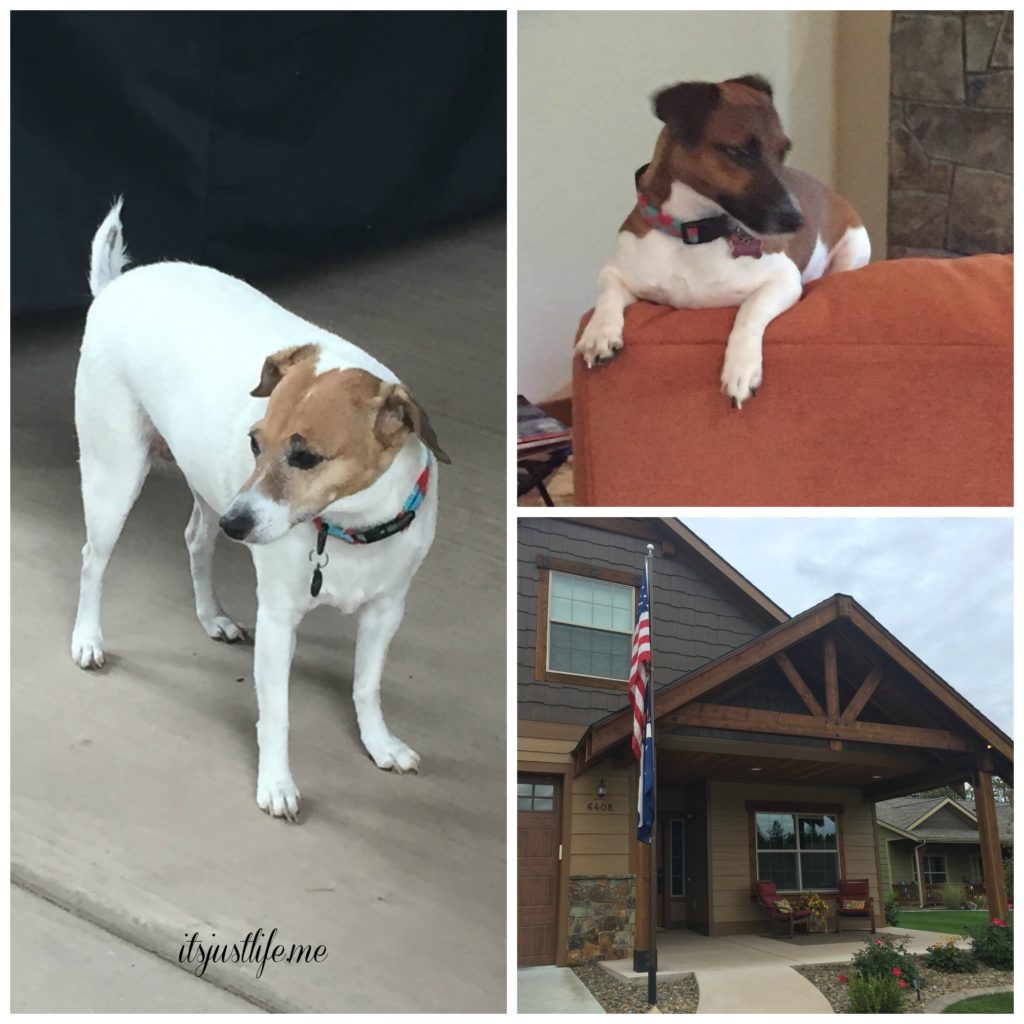 Next stop was Moss Mountain Inn just outside of Glacier National Park.  Owners Jayne and Troy Miller made sure our stay in The Highline Room was perfect in every way.  This place had a fabulous solarium and Troy had the wood burning stove cranked up in the evenings so we were able to enjoy some quiet down time after a day in the parks.  Jayne cooked up quite a breakfast for us both days we were there including an amazing Montana Berry Bake.  Both days everyone wanted seconds of her breakfast specials  so you know it was good. If you are ever exploring Glacier I would highly recommend a stay at their base camp.  It really was a great place to return to at the end of the day in the park.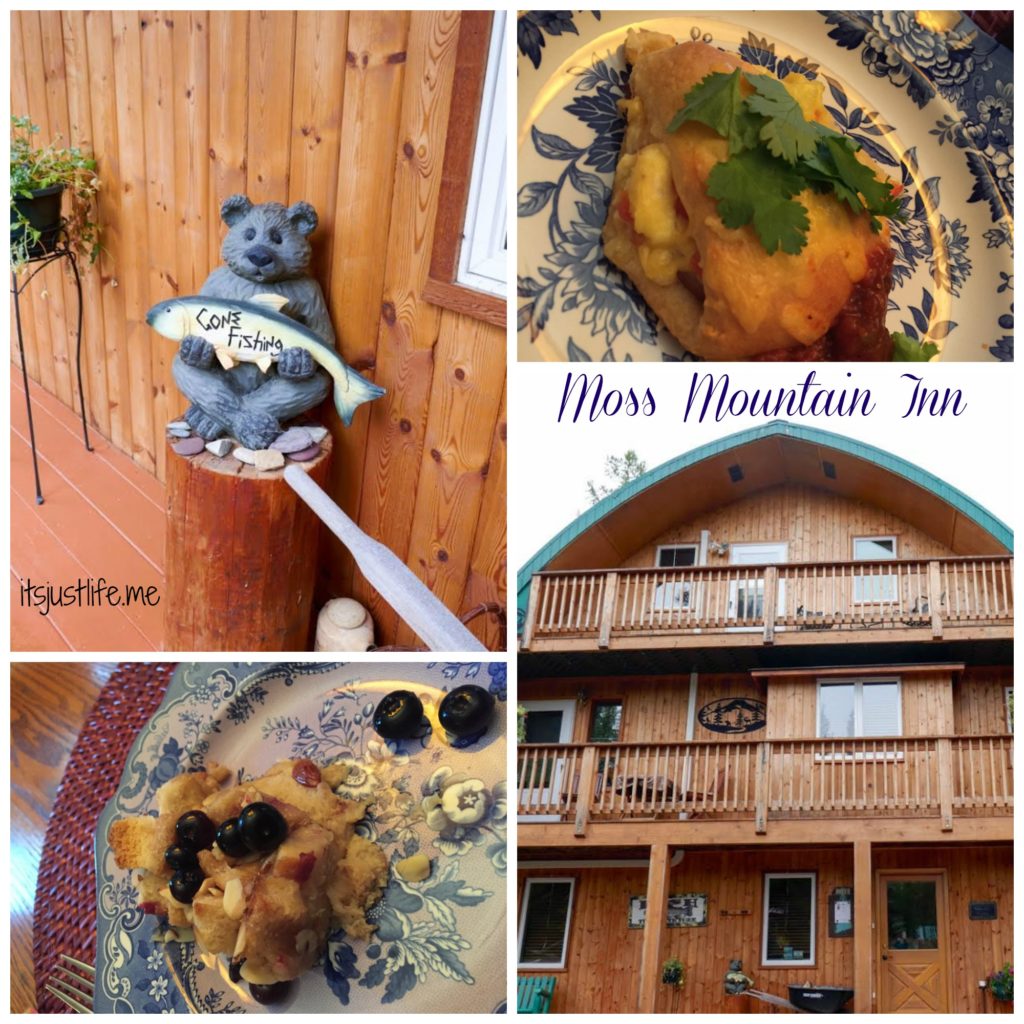 Our next stop was a brief one night stay at Outlook Bed and Breakfast in Somers, Montana.  Our hostess, Michelle Ahern, had contacted us earlier to let us know that they had had a water leak in their lovely place earlier and even though our room was not damaged she wanted to make sure we had the chance to find other accommodations if we wanted since she would not be able to provide her normal breakfast and service.  We kept the reservation because we just wanted to stay there for one night and she graciously allowed us to keep that date.  We never met Michelle in person but her personal touches to the place were obvious and we were touched by her graciousness.  The Native Son room was a perfect place to unwind and we loved the B and B cat, deer outside our door and the amazing sunrise.  Great place to stay in a beautiful location on Flathead Lake that we would love to explore again someday.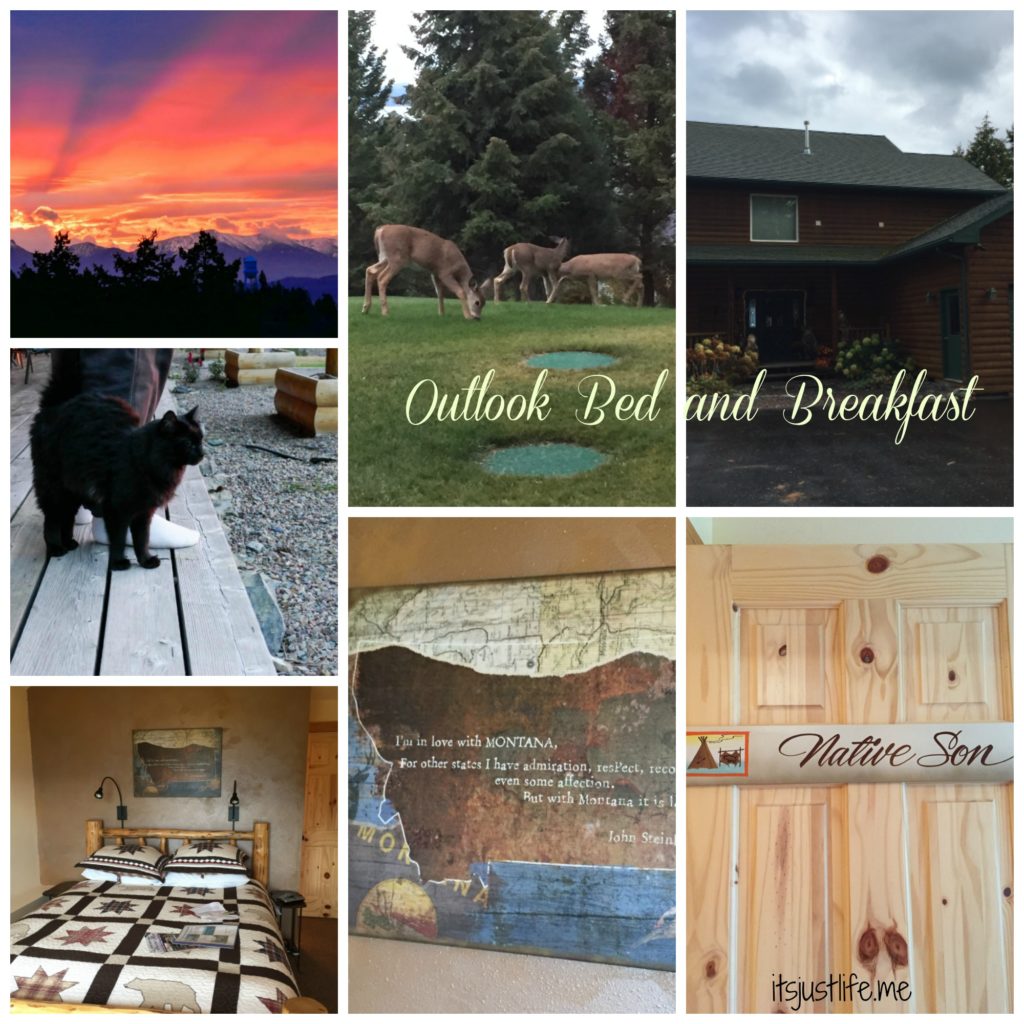 From Somer we continued on our journey to explore the Salmon River area and found ourselves at The Greyhouse  Inn which is owned and operated by Dave and Sharon Osgood.   Sharon met us and gave us the scoop on the area and on our accommodations in The Carriage House where the western theme was carried out perfectly.  We enjoyed Sharon's fabulous breakfast and a comfy bed for our one night stay there.  The area is stunningly beautiful and the property that the Inn and cabins are on is beautiful indeed.  Of course Little Boy Kitty and Little Girl Kitty were a huge hit with me and they made me feel right at home. We did not have the good fortune to meet Dave but enjoyed talking with Sharon and with the other guests at breakfast.  Did I mention the fresh eggs ? Yum.
Our final place to stay was my favorite place on this trip.  I mean I had to have a favorite, right?  It might be because we got to stay here three nights.  It might have been that I had 2 days of down time from traveling because Chris was fishing both days.  It might have been because of our wonderful hosts David and Julie.  But for whatever reason –we both loved staying at Fox Creek Inn in Victor, Idaho.
Victor is the undiscovered secret answer to the busyness of Jackson, Wyoming and is a short drive through the pass.  It is a lovely little town and although I am not a fan of the back in parking that they have on their streets it has some cute little shops and restaurants and Fox Creek Inn is conveniently located  just outside of town.  Our room, The Grand Room, was huge and filled with all of the comforts of home.  Breakfasts with Julie and David were wonderfully prepared and tasty and we loved our little getaway in their inn.
You know animals are a real plus for me in any place and while our hosts were very considerate of their guests and did not have their pets front and center I was able to enjoy time with Girl the African Grey Parrot and Trout –the loving and affectionate one eyed cat.  Their dog was a little shy but I did get to pet another dog who was staying there at the same time and that was lovely.  
Chris outdid himself on this trip and found some of the best places to stay.  He is always good at the logistics and this time was no different.  If you ever travel to any of these destinations I would recommend checking out these accommodations.  All of their links to their websites are clickable so go check them out for more details.
Do you like to stay in places like this or are you strictly a hotel kind of person?  Let me know in the comments and remember that all comments this month go towards CROP Walk — our Comments for a Cause for October.  You can read more about that by clicking here