The North Iowa Bloggers were provided with a gift card courtesy of Lou Malnati's as part of our Clear Lake Chamber sponsored trip to Chicago.  All opinions and reviews are 100% my own and honest.
I have always heard Chicago folks brag about their pizza.  It is a common boast of anyone raised in the Chicago area to brag about how spectacular their pizza dishes are but until my recent trip with the North Iowa Bloggers to Chicago I had not had the chance to sample any authentic pizza on my own.
After exploring the city a little bit on Friday morning we knew it was time.  We were famished early in the morning and decided to go ahead and head to Lou Malnati's for an early lunch.  We got there before they opened and they graciously set up a couple of chairs for us to sit on outside while we waited for the opening of the restaurant.
When the restaurant opened we were ushered in and I took a bit of time checking out the decor which was fun.
Close up of the neat ceiling.
How fun are these cleats on a wall? Great decorating idea for a boy's room, don't you think? 
We were seated almost immediately upstairs and began to check out the menu. Our waiter for the day was Jason and he was amazing.  He made recommendations and helped us figure out what was going to be the very best experience for each of us. Donna has a gluten free diet restriction and they had an amazing sausage crust pizza that she ordered that looked amazing.  I could not imagine what  a sausage crust would be like but it is exactly like you would expect—-a crust made of sausage.  Of course I did not take a picture but you can visit Donna's blog and see what it looked like.
Jason really made sure we had a great experience. The menu is extensive and I could have spent a lot longer trying to decide but I was hungry so I chose quickly.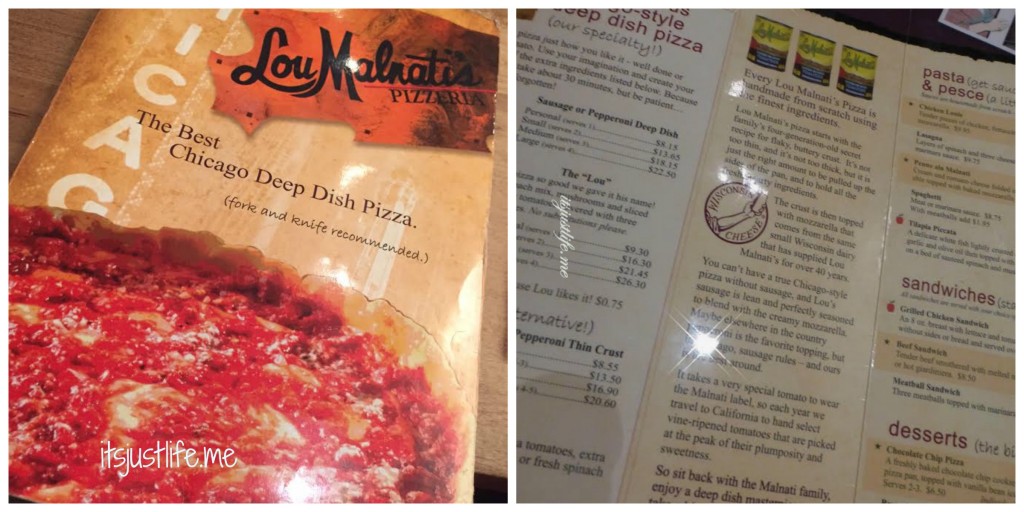 We started out with some delicious salads and appetizers.
When Jason and his helper brought our pizzas out our mouths were watering. Just look at those delicious looking pizzas.
Libby and I decided that we wanted to have the "Lou" so Jason advised us to just order one of the small ones together and it was the perfect answer to my ordering quandary.  It was wonderful–filled with spinach mix, mushrooms and sliced roma tomatoes covered with mozzarella, romano and cheddar cheese on a garlic butter crust.  Can't you almost taste it?
Did I mention that  you can also order online AND order pizzas to be shipped nationwide?  What?  I may be doing this for a special occasion someday because honestly–this was one of the best pizzas I have had to date. No wonder Chicagoans are always boasting.
Jason delivered one last treat to our table of bloggers and as we passed this little wonderment of ice cream and cookie combo around the table there was much oohing and ahhing.
Look at that.  Don't you wish this blog came with a fork today?
Of course we had to take a picture with our fabulous waiter of the day, right?
Special thanks to Lou Malnati's for the gift card and to Clear Lake Chamber for sponsoring this trip.  It was so much fun to experience deep dish Chicago pizza just like the locals.
Lou Malnati's contact info is as follows:
It's Just Life — Finding the Extraordinary in the Ordinary receives free products for review purposes. All opinions expressed are my own and were not influenced by any form of compensation. This disclosure is done in accordance with the Federal Trade Commission 10 CFR, Part 255 Guides Concerning the Use of Endorsements and Testimonials in Advertising.