If you have followed me here and on social media you know that I have a few favorite authors and Sean Dietrich tops the list. I was not able to get an early release of his latest book, You Are My Sunshine, but listened to the audiobook the day it was released. The hubby even requested that we listen to it as we drive to the beach so I think I might have gotten him hooked as well.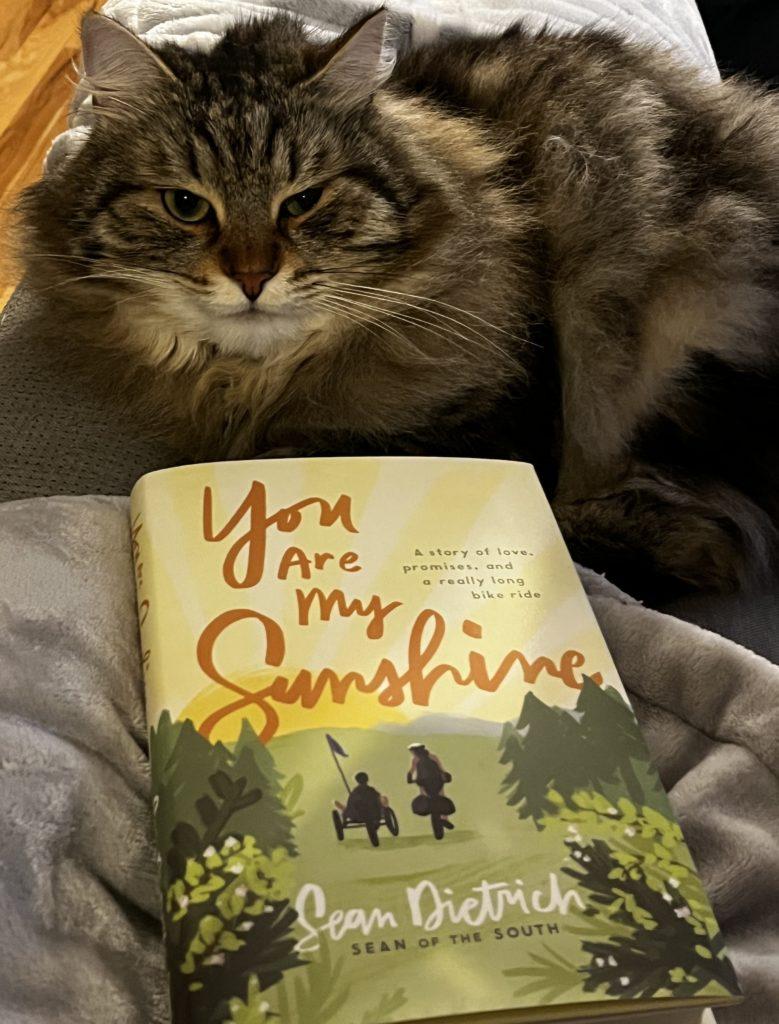 If you have been reading my blog or following me on social media you know that I am a huge fan of Sean Dietrich aka Sean of the South. He has quickly become my favorite Southern author and I am always singing his praises. My friend Ann and I managed to make a trip to a book signing in Tennessee awhile back before the wold shut down. You can read about our trip here.
Sean did not disappoint with this book and I am happy to share that it will be one of my favorite reads (or listens) for the year. Here is my review:
Another 5 star book from the beloved Sean of the South – Sean Dietrich. This book hit the shelves yesterday and will no doubt become one of the best books that you will read (or listen to) this year.
If you are unfamiliar with Sean Dietrich let me introduce you to the best southern story teller around today. His down to earth style, his humor and wit, his honestness and his master of the English language is a pleasant surprise. His daily pieces have warmed the hearts of countless folks who have needed a little boost, especially over the past couple of years. I am still thanking my friend Ann for introducing me to his work years ago.
His latest book is a love story – a promise that he made to his adorable wife Jamie back when she had a health scare proved to almost be his undoing. He promised her an adventure and the adventure turned out to be biking the Great Allegheny Passage and C&O Towpath Trail. Never mind that these two were not seasoned bikers by any means. They tackled the trip on a bike and a trike for Sean who is afraid of bikes (and clowns).
The book is a colorful travelogue of their big adventure and all of the things that happened along the way – both good and bad. I will ruin the ending for you –they made it. Alive, somewhat bruised and definitely tired but they accomplished what they set out to do and he lived to write about it. Sean also imparts a little bit of his history and background which helps the reader know a little bit more about this pretty amazing couple.
When the world seems to have lost its way and gone a little wacky it is wonderful to lose oneself in a story of adventure filled with colorful characters, humorous incidents and just good writing. Sean and Jamie have captured many hearts over the years and this love story definitely captured mine.
If you are looking for a book that will have you laughing out loud in places and almost in tears in others this is the book for you. I listened to the audiobook and love hearing the author. reading his own words – complete with his "Jamie" voice. One word of advice — keep on close eye on your Kit Kat if you travel with Jamie.
Thanks, Sean, for another book that made me forget about the world for awhile and gave me hope once again.
Check out this book and I don't think you will be disappointed. Maksim obviously had a range of emotions but take my word — it's worth every penny. Check out your local bookstore or click here for an Amazon link.
Don't forget to leave me a comment and Comment for a Cause – Operation KeepSafe® Dementia Society of America.