I was thrilled to be able to view Stickwork at Biltmore Estate again on my trip there last week.  Stickwork, by Patrick Dougherty, is a large-scale, unique-to-Biltmore outdoor sculpture. The outdoor exhibit, located in Antler Village, is the perfect playground for young ones.
The great thing about the exhibit is that is is changing. Originally when I saw the exhibit in April the sticks were greenish in color and appeared to be more supple. To see those pictures and read more about the exhibit just click here to open that post in a separate window.
After a few months of standing in the sun and rain and wind the exhibit is changing.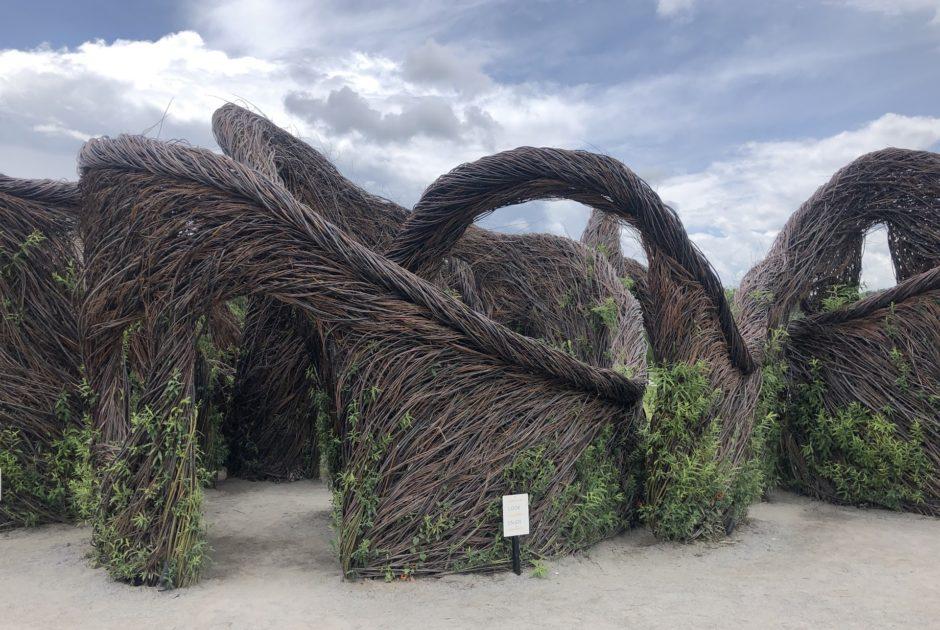 New green additions are growing up all over the structure and a couple of different flowering vines have been planted at the base of the installation. One was a moonflower and the other one I promptly forgot but how exciting is it going to be to see these growing the next time we visit.
Of course I made Elaine pose inside for a quick picture and she obliged. She's a good friend, isn't she?
The Biltmore representative that was there told us that the exhibit will be up through September for sure and if (fingers crossed) the artist and Biltmore staff deem it to be safe to leave standing over the winter they will leave it. Can you imagine this at Christmas with lights on it? I sure hope it can stay because I think that would be amazing to see.
Thanks for joining me today –leave me a comment and remember that each comment means a 50 cent donation to Comments for a Cause this month — Jubilee Partners.