One of the things that I love to look at the most when I look at pottery is the art of making face jugs. Face jugs come in all shapes and sizes and I have seen my share of different ones over the years. When we visited the NC Museum of Pottery in Seagrove, NC there were a few that caught my eye.
The Face Jug or "Ugly Jug" come in many variations and the origin is varied as well. Some relate that the origin may be linked to mysterious burial ceremonies that came with enslaved Africans. Another myth says a face jug was placed on a new grave for one year. After the year was over the family of the deceased went to get the jug. If it was still intact and whole the family held a celebration. If it was missing or broken it was suspected that the spirit was wrestling with the devil and there were no celebrations.
Another thoughts include the idea that the jugs contained liquor and the faces were to scare children away. Still another idea is that they just represent the faces of neighbors.
Face jugs date back well into the nineteenth century in other Southern states but they first appeared in the Catawba Valley and Buncombe County in the late 1920's when the Brown family was known for their horned devil jars.
I absolutely love this picture of famous potter Burlon Craig admiring a yard full of face jugs. Mr. Craig was a very famous potter and made more than his fair share of face jugs. His expertise was well known in the industry and his legacy lives on today. I think this picture shows one happy man, don't you?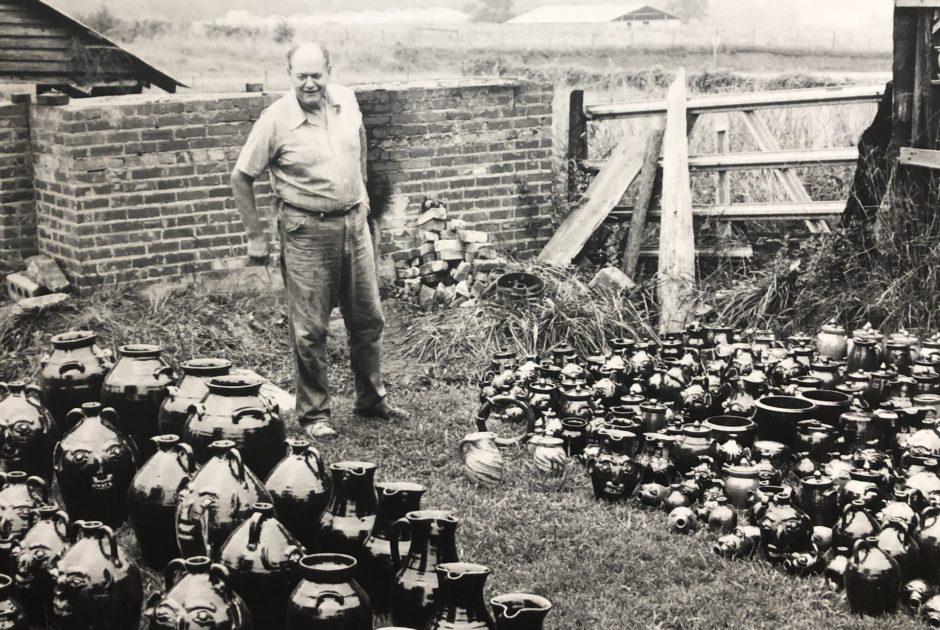 The museum also had several teapots and I managed to capture a few shots of a couple that I really liked that were on display.
There is just something about a pottery teapot that I love. They are sturdy and not mass produced so they are all unique. Maybe that is why I love them so much.
What do you think of face jugs? Are they scary or fun ? Let me know what you think and remember to Comment for a Cause for Alzheimer's Association.