We did it! Our first Gramma and Gramp Camp is over and done and all participants appeared to enjoy the experience thoroughly. Camp counselors have recovered from the weeklong experience and have improved flexibility and stamina as a result.
The week with our little grandson flew by and thanks to his ability to stay on his great schedule of eating and sleeping he did really well at camp.
Preparation for the week long event began with constructing a fenced off area to protect little noggins from the sharp stone edges of the fireplace. That was the camp counselors' main goal – promote safety while allowing the camper to enjoy some freedom and structured play time. High praise for the adaptable "fencing" that was acquired prior to the start of camp week which worked like a dream.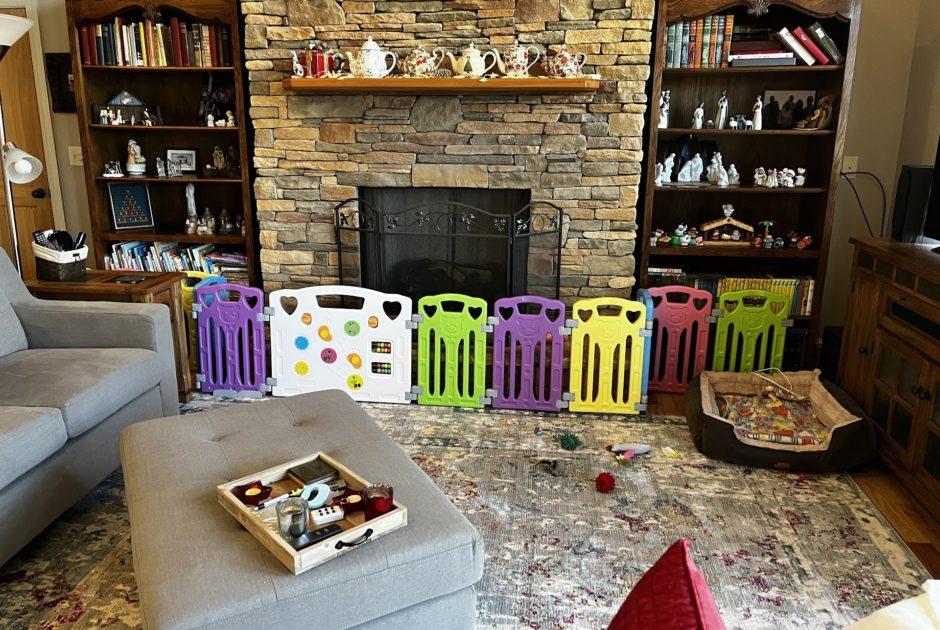 Additional fencing was also used to secure stairwells although it really wasn't needed too often as camp counselors were ever present and ever vigilant. Camp pets were safely introduced and many sessions of gentle petting were experienced throughout the week.
Camp days included hours of play time utilizing lots of educational and fun toys that were taken out of bins repeatedly and replaced nightly. An artfully placed ottoman helped to secure the play area and ensure confinement when needed of the camper.
Camp attire was comfortable clothing including tshirts for counselors and onesies for camper to help commemorate the first event.
Arts and crafts time was included in the week and the handiwork sent home with the camper's parents as well as given to other family members. (It did take a couple of baths to get the blue paint out from underneath the camper's fingernails but he was successfully paint free at the end of the stay.)
Field trips included trips to Shadowbrook Farm to see our favorite animals including Zeke the goat, walking and swinging in various parks and seeing the Connestee Falls waterfall. Camper was well behaved and especially enjoyed all of the swinging options.
Camp cook was kept busy all week preparing meals for the camper who had a voracious appetite. Some offerings included bananas, steamed vegetables including carrots, broccoli, green beans and even asparagus. Blueberries and waffles were a huge breakfast favorite along with massive quantities of eggs. Macaroni and cheese, grilled cheese sandwiches, chicken and turkey meatballs rounded out the selections and just when the camp cook was running out of ideas it was time to pack the camper up and send him on to his other grandparents.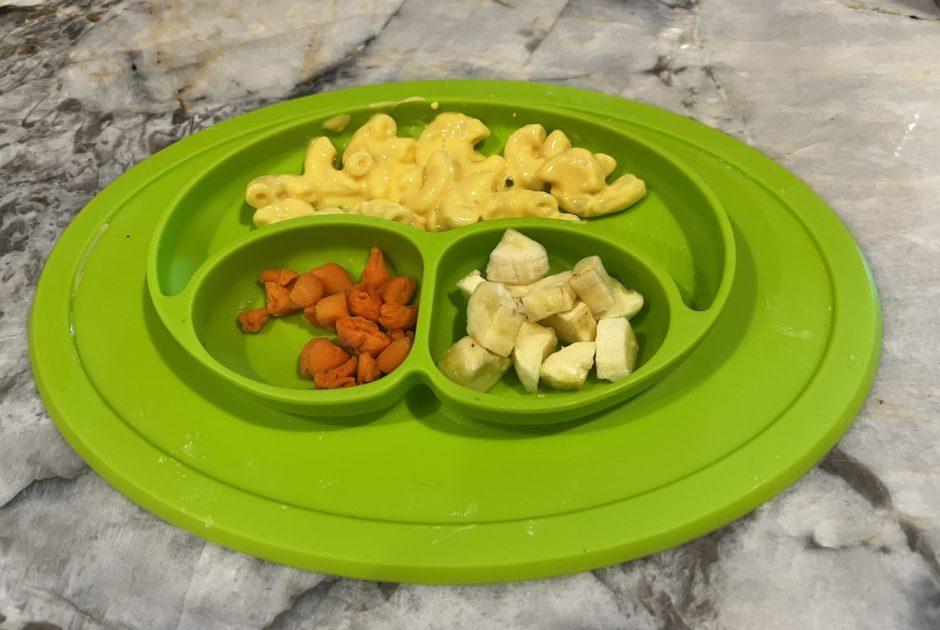 Camp pets were well behaved and basically ignored the camper for the most part. But I might have heard a sigh of relief as we packed the camper up and took him to the next destination.
We can't wait for our second Gramma and Grampa Camp.