A repost from years ago but very applicable for me today. I hope you enjoy.
Praise be to the God and Father of our Lord Jesus Christ, the Father of compassion and the God of all comfort, who comforts us in all our troubles, so that we can comfort those in any trouble with the comfort we ourselves receive from God." 2 Corinthians 1:3-4
I don't care who you are, where you live, what you look like or how you live your life. You have experienced brokenness at one point in your life or another. It is inevitable.
This past week as we walked the beach in search of the perfect seashell Chris managed to find a wonderful sand dollar for my collection.  If you know what a sand dollar looks like you are probably intrigued by these little "snapper cookies" as they are called in New Zealand.  The dead ones often wash up on shore and are bleached white by the sun and this is the state of the one that Chris found for me.
I was so happy because I had found a lot of other great shells but had yet to find the elusive sand dollar on Marco Island. I took it back to the condo and laid it on the little table on the balcony with my other finds.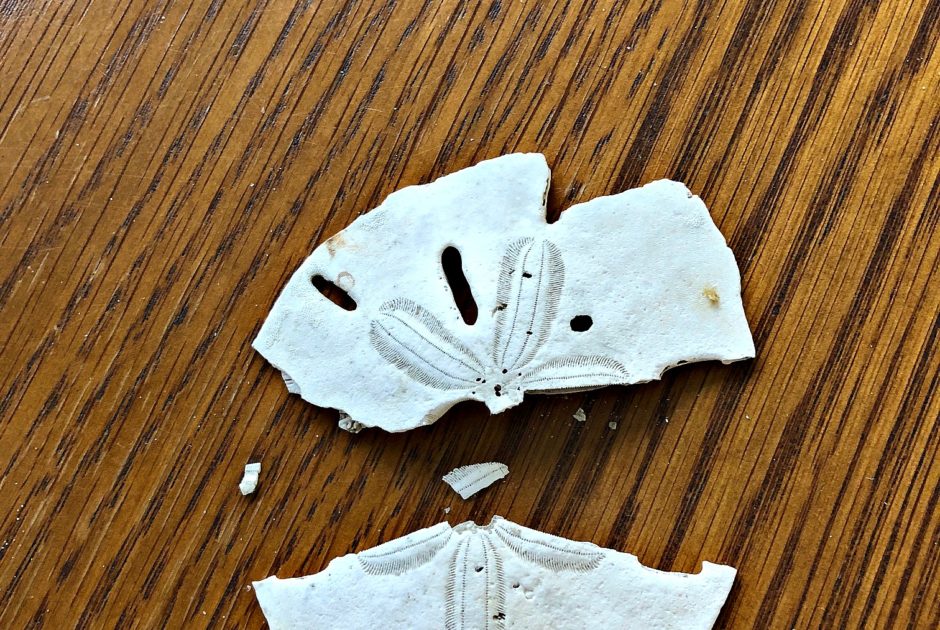 Then it happened. The weather was unusually windy and I heard it and knew exactly what had happened. My once perfect shell was broken. The wind had blown the table around a bit and my fragile little sand dollar bore the brunt of the weather and cracked into several pieces.
I knew it wasn't the end of the world but I did feel a bit sad about it because Chris had found it for me and it was a special memory of our trip. But it seemed like a great object lesson at the same time . Even though that sand dollar was broken and not able to be put back together it was still beautiful in its own way.
The inside of the sand dollar houses 5 little "dove like" pieces if you are lucky enough to have it break so that they are kept intact. There are many stories that I have heard over the years about the sand dollar and those little doves that reside within but what I like to think is that out of the brokenness there is hope. Those little doves represent hope to me.
Don't we all just need a little bit of hope these days? God is there for us even in our brokenness. We just have to realize that and recognize that there is hope in our brokenness.